By Peter Andrew
Conservative American
November 12, 2008
One day after we told you about the US Catholic Bishops planning a big fight with Obama over abortion, they are in the news again. Yesterday we questioned how much credibility these guys have left after all of the organized cover-up of criminal activity…sounds like organized crime to us. Today, they give us yet another example. Disgraced former Archbishop Rembert Weakland, a pompous and arrogant gay liberal (he admitted to having a sexual relationship with another man and to using archdiocesan funds to pay hush money), is seen on new video (click to read rest of this story to see the video yourself) admitting they moved sexually abusive priests around for 25 years and kept it all a secret from the faithful in the pews who continued to write big checks. The Most Reverend Rembert Weakland is a lot like O.J. Simpson, believe it or not. Remember how OJ got away with murder then pledged he would spend the rest of his life (on the golf course) looking for the "real" killer of his ex-wife? Well, Weakland got away with organized crime, misuse of Church funds, being homosexually active against Church teaching, promoting gay priests to top parishes, recruiting and training gay priests (and on, and on and on), but he too made a pledge. He pledged he would work the rest of his life to pay back the Archdiocese the $400,000 in hush money he gave to a former boyfriend. Both men, OJ and Weakland, have spent an equal amount of time on their pledges: none. Will the archdiocese release information on how much Weakland has paid back so far? I doubt it.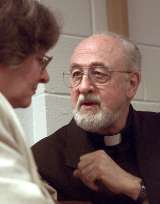 Disgraced Archbishop admits to criminal activity

The Survivor's Network of those Abused by Priests, SNAP, released the video today after more arrogance from the Milwaukee Archdiocese. The Archdiocese has been saying the pending cases against it will be very hard for a court to handle because most of the abusers and abuser-helpers are dead. SNAP wants to emphasize Rembert Weak-land is very much alive and was very much involved.
SNAP, and those who run it, are the true defenders of the Church. I'm passionate about this issue, folks. These innocent victims had the courage to come forward and shed light on a huge problem. Unfortunately the Catholic Church was, and is, a good place for homosexual men to "hide." As these men grew older, a few were promoted to Bishops and perhaps even higher authority in the Church. Without American Catholics ever being aware of it, these men stole the Church from the people in the pews. These "vicars of Christ" (the Catholic Church teaches that bishops are hand-picked by Christ himself) have brought much disgrace on their faith and have caused much pain and suffering needlessly. Their punishments? Absolutely nothing. Police are afraid to arrest them. District Attorneys don't want to charge them. Judges don't want to convict them. These people are doing such a disservice and merely are enablers to the abusive behavior. I firmly believe the US Conference of Catholic Bishops should be investigated by the Justice Department (it wouldn't even take long) and charged with organized crime. They certainly were organized and made plans together to conceal criminal activity, thus allowing it to continue. These men should be in jail. Pope John Paul II was always a hero of mine. I looked up to him so much, and in most ways still do. However, I am no longer starstruck by his legacy. Even when the US Catholic Bishops came up with some so-called tough consequences for abusive priests, the Holy Father said no to the new rules. He said the rules did not do enough to allow the priests to reconcile with the Church. They can reconcile all they want, from prison! The Catholic laity need to take back their Church from men the likes of Rembert Weakland and his many criminal accomplices.
If you actually have any money to donate to a good cause in this tight economy, consider supporting the efforts of SNAP this year…maybe instead of adding to the Bishop's defense funds with your weekly contributions.